Apple corer
£1199

£11.99
Tax included.
---
---
Easy & Practical To Use: Prepare your apples in half the time with the Apple Corer. Simply place the corer at the center, push down until the blades pierce through, give a slight twist, and pull out. You're now left with a perfectly whole apple without the hard center core and seeds.
Cores Apples In Seconds: Designed with sharp serrated blade tips that can easily pierce through apples or pears faster than a knife can. You no longer have to worry about exerting effort in slicing when you can remove the core instantly.
Curved Ergonomic Handle: Specially designed handle helps you grip tightly when coring even the toughest apples. The curved shape provides an ergonomic and steady hold making it comfortable for adults, seniors or those with arthritic hands.
Durable Stainless Steel: Constructed with only premium quality materials. The blades are made with rust resistant stainless steel that won't bend or break even with daily use. Perfect for fresh produce such as apples, pears, bell peppers or other goods such as cupcakes.
Easy To Wash & Maintain: Comes with an easy press lever mechanism that easily opens with the press of your thumb making it both easy to wash and remove unwanted cores. Can be cleaned by hand washing with a soapy cloth and rinse clean. Dishwasher friendly.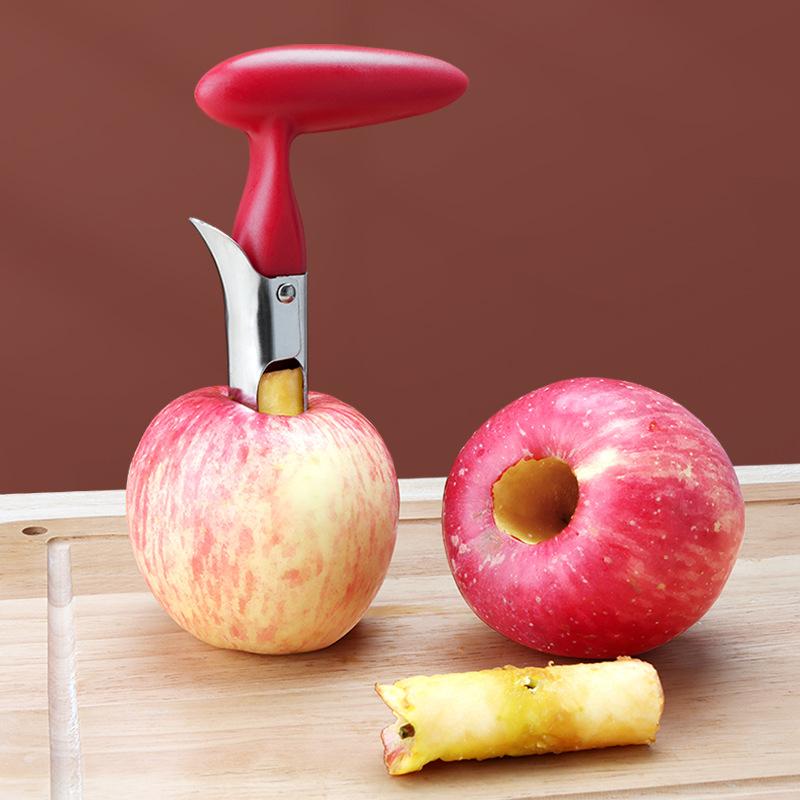 Top Grade Construction
Premium quality stainless steel
Twin blades
Sharp and serrated tips
Effortlessly core through fresh produce such as apples, pears, bell peppers, cupcakes, and more
Effortless Apple Coring
Durable apple corer tool
Rust resistant
Will not easily bend or break
Core through any hard apple with ease
Can also be used as a pitter and seed remover
Comfortable Ergonomic Handle
Non-slip
Comfortable & stable to use
Can be comfortably held and used by seniors and those with arthritic hands.
Easy To Clean
Lever easily opens when disposing of unwanted cores
Can be cleaned by hand wash
Dishwasher friendly
Cuts through Apples With Ease
Alternative to old cutters, pitters, dividers, wedger, huller, corer slicer, progressive slicer, divider and cheap plastic accessories
Does not include apple cutter, apple slicer and corer, apple peeler slicer corer, apple cutter slicer corer, apple peeler and corer
Does not include apple corer and slicer, apple corer and peeler, pineapple coreer, vegetable peel, slice & correr
Can be used as tomato corer, tomato corer tool, cupcake corer, zucchini, strawberry, potato, cucumber